Brief History



It is a family company with 10 years old. She has always stood for the service and attention to autonomous individuals and small businesses. Distributes and represents leading brands in the market, highlighting Keraben, Ceramic Plaza, Pamesa, besieged, Grupo Puma, Gres de la Mancha, Keros, Mora - Roselló, Vidrepur, etc .... You can find a detailed account of these brands ...


You can find us on...
Avenida Doctor Fleming - Down
07820 - Sant Antoni de Portmany (Ibiza)
Teléfono / Fax : 971 346191
info@elfaropavimentos.com

Quality management



In these years of crisis, El Faro has opted Pavement Quality, being the first company in San Antonio in obtaining the quality certificate ISO - 9001 - 2008 awarded by AENOR .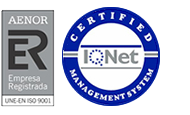 This standard specifies requirements for a good quality system. For certification takes into account management system, general requirements and documentation. Responsibilities of Directors, Gesión Resources (HR, infrastructure and work environment), Product Realization (from antención dle product until the product or service delivery), Measurement, Analysis and Improvement